Gelb Organization, LLC
Medical Division
Wayne, NJ
www.gelb.com


Have Any Question Just Contact Us
Professionals in Medicine and Engineering founded Gelb Organization, LLC in 1975. Our staff currently consists of Physicians and Engineers. We specialized in Medical Research and supply Life Saving Electronics Worldwide.
Sold as 3 and 4 Packs - 3M™ NEW N95 (aka ND95) 8210 PLUS* NIOSH RESPIRATORY MASKS
*The Plus Differentiates this mask from the standard plain 8210 mask. It is the improved version with better harnesses and filter.

You should be aware that the best mask to defend against inhaling and exhaling a pathogen is a ND95 Plus mask.

These Masks are NOT "KN" Chinese Masks.

Expiration date of masks are 10/2025

How We Safeguard Your Shipped Mask

In our Clean Room, each 3M Respirator is transferred from the 3M sterile bundle and sealed in a smaller sterile bag. Your order is then placed in a new 9X7X5 box and shipped.

These are the particulate masks that work two ways. I call them "in and out" masks. An ND95 mask will filter expirate in two directions; namely, inhale and exhale.

Daily Use of These Particulate Masks

In the hospital we are always short of supplies and have to reuse the masks. However, we have a distinct advantage in reusing the mask. In our facilities we have FAR-UV lamps. These lamps emit 207–222 nm wavelengths and destroy the pathogen. So we re-sterilize them if they are not soiled, wet and the filter material is undamaged. If you take care of them they can be reused.

You can search the Internet for some other methods to sterilize the mask and yet not destroy the effective filter material. We can only recommend that you sterilize both sides of the mask and the yellow harness straps.

Some Information About the Masks

About N95 masks

Actually a type of respirator, an N95 mask offers more protection than a surgical mask does because it can filter out both large and small particles when the wearer inhales. As the name indicates, the mask is designed to block 95% of very small particles. Some N95 masks have valves that make them easier to breathe through. With this type of mask, unfiltered air is released when the wearer exhales. An N95 respirator is a respiratory protective device designed to achieve a very close facial fit and very efficient filtration of airborne particles. Note that the edges of the respirator are designed to form a seal around the nose and mouth. N95 masks are tested for fluid resistance, filtration efficiency (particulate filtration efficiency and bacterial filtration efficiency), flammability and biocompatibility

About N95 masks with valves

Many sources like Healthline Report that experts are warning the public against wearing certain type of N95 face mask with front valves. They say the masks protect the user but do not stop virus droplets from escaping and infecting others. These masks were designed for construction workers to use to keep out dust and other particles.

About Surgical masks

Also called a medical mask, a surgical mask is a loose-fitting disposable mask that protects the wearer's nose and mouth from contact with droplets, splashes and sprays that may contain germs. A surgical mask also filters out large particles in the air. Surgical masks may protect others by reducing exposure to the saliva and respiratory secretions of the mask wearer.

At this time, the U.S. Food and Drug Administration has not approved any type of surgical mask specifically for protection against the coronavirus.

Surgical masks are not designed for use as particulate respirators and do not provide as much respiratory protection as an N95 respirator. Most surgical masks do not effectively filter small particles from the air and do not prevent leakage around the edge of the mask when the user inhales.

General N95 Respirator Precautions by 3M

People with chronic respiratory pulmonary problem (i.e., asthma, COPD, Bronchitis, Cystic Fibrosis, etc.), cardiac, or other medical conditions that make breathing difficult should check with their physician before using an N95 respirator because the N95 respirator can make it more difficult for the wearer to breathe.
Some models have exhalation valves that can make breathing out easier and help reduce heat build-up. Note that N95 respirators with exhalation valves should not be used when sterile conditions are needed.
If your respirator is damaged or soiled, or if breathing becomes difficult, you should remove the respirator, discard it properly, and replace it with a new one. To safely discard your N95 respirator, place it in a plastic bag and put it in the trash. Wash your hands after handling the used respirator.
N95 respirators are not designed for children or people with facial hair. Because a proper fit cannot be achieved on children and people with facial hair, the N95 respirator may not provide full protection.
Some Images of the Product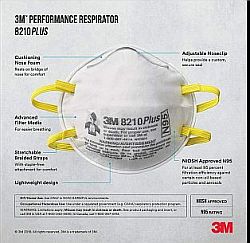 Trademarks: ™ 3M, 8210 Plus, and all images on this listing are credited to 3M a Registered Trademark of the 3M Company.
© Copyright 2020, Gelb Organization, LLC. All Rights Reserved.